The following were our objectives in developing the SUP ATX line of stand up paddle boards, followed by how we went about achieving each of those objectives in order to realize our dream of bringing our standard-setting, industry defining stand up paddle boards to a new market in the price range envisioned.
Objective 1: Craft the Best Overall Quality SUP Board on the Market
We approached our friends at Becker Surfboards, a 35 year old (and the longest standing) southern california manufacturer of surfboards and asked them to partner with us in the design and overseeing the building of our stand up paddle boards. Enthusiastically sharing our vision for spreading SUP theoughout the world, Becker agreed to partner with us in the project. As a result, SUP ATX boards are manufactured in the same factory and by the same craftsmen that build the majority of other previously top selling SUP boards, using the same EPS/EPOXY construction processing, materials, quality and care that goes into boards selling for twice the cost of SUP ATX boards.
Objective 2: Optimize SUP ATX Board Shape for use in Waves, Lakes and Rivers
For testing and comparative purposes, we purchased 20 SUP boards from makers such as Ron House, Jerry Lopez, Naish, Becker and King. A variety of Longer boards. Shorter boards. Wide boards. Narrow boards. Thick rails. Thin rails. Steep rocker. Subtle rocker. Long fins. Short fins. Pads. No Pads. Handle. No Handle. Carbon fiber paddles. Fiberglass paddles. For a year, we rode them on the ocean in Malibu. In calm water. Choppy water. In waves. Into the wind. With the wind. With currents. Against currents. In central Texas lakes. In flat water. In lakes with wakes. In the rain. In 40 degree temperatures. In 100 degree plus temperatures with heavy humidity. Sent boards to "SUP ATX Pioneers" in other areas for further third party feedback. We took everything we learned and worked with the shapers and designers at Becker to come up with the ultimate shape for all around SUP board in all water types. We became convinced we were armed with more information than anyone had ever gathered on what would make the ultimate stand up paddle board.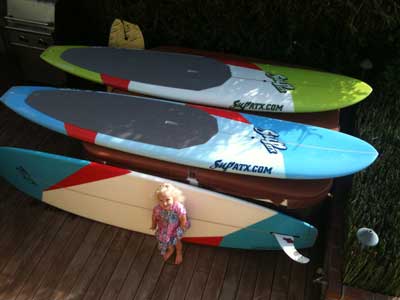 Objective 3: Make Accessories Such as fins, Traction Pads, Handles and Vent Plugs Standard Equipment
We found certain board accessories to be necessities for an overall positive SUP experience from point of purchase to floating on the water, so we've included them as standard equipment on all of our SUP ATX boards. This includes an installed 10" fin. A traction pad installed on the top of the board to stand more comfortably and with greater traction while riding. Handles make carrying a SUP board comfortable and easy. We wouldn't make a SUP board without one. Vent plugs solve a variety of potential problems with the core of SUP boards. All EPS/Epoxy boards should have vented plugs, particularly in areas with high temperatures and humidity. We include vented plugs as standard equipment on all of our boards.
Objective 4: Design for Ease of Portability and Storage
In addition to taking performance notes for shaping the Lakerider, we also noted and worked to resolve many of the nuanced challenges in managing and storing SUP boards when they're out of the water. SUP ATX boards come with integrated handles. If you've ever carried a SUP board, you know how important and convient handles are. We have also tested and offer a series of affordable accessories to fit your specific needs in handling your SUP board out of the water. Simple car racks. The easily attaching surfboard "mule" that allows you to pull your board on wheels or tow it behind a bicycle. Wall, ceiling and floor racks. Having the right combination of accessories to move and store your SUP board to meet your specific lifestyle, makes the overall experience of owning a SUP board far greater, allows you to spend more time on the water, and will result in more frequent use. We have researched and are prepared to advise and supply you with what you need to easily manage and enjoy your SUP board in AND out of the water.