SUP ATX is credited with introducing and popularizing the sport of Stand Up Paddle Surfing (SUP) in lakes, rivers and surfing areas throughout the United States and around the world beginning in 2008. In its first year, SUP ATX established itself as the #1 Stand Up Paddle Board Maker Worldwide which it remains to this day. It started in Malibu, California when Travis Stassart and Mitch Taylor of Becker Malibu got SUP ATX founder Nick Matzorkis into paddle surfing. Immediately hooked, Nick was convinced the interest and demand for stand up paddling would be far greater in inland United States lakes and rivers than coastal regions. Sharing this vision with 25 year Becker veteran Mike Bill, they launched SUP ATX to develop, manufacture and distribute stand up paddle boards designed for ocean, lake AND river usage. The result is the SUP ATX line of stand up paddle boards that have since defined and revolutionized the stand up paddle board industry worldwide, officially moving the sport from the shores of Hawaii and Malibu to lakes, rivers and surfing areas everywhere.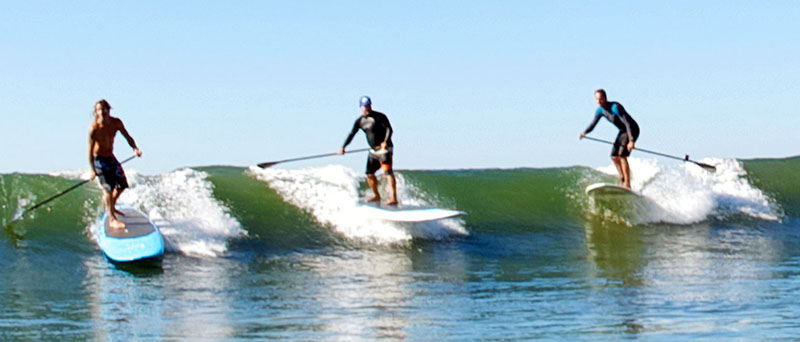 SUP ATX began testing various board construction types and shapes in the ocean in Malibu. After determining which boards would work best in lakes and rivers as well as oceans, SUP ATX distributed their prototype boards to friends and associates for further testing and feedback from inland lakes and rivers around the world. This initial valuable feedback resulted in the development of the first generation SUP ATX line of stand up paddle boards and also began the process of spreading and popularizing stand up paddling in key recreational lakes and rivers throughout the central United States in 2008.
Birthed in Malibu, CA and raised in Austin, TX, SUP ATX lead the transformation of stand up paddling from being an exclusively ocean surfing sport to becoming a global flatwater phenomenon. This was documented by FOXsports with, "The SUP ATX Journey from Malibu to Austin". It didn't take long for the sport to take off quickly in SUP ATX's hometown of Austin, Texas. Not a day passes on Lady Bird Lake in downtown Austin without seeing hundreds of stand up paddlers gliding across the lake's surface. More people stand up paddle in Austin, Texas on a daily basis than any other city in the world, quickly having established it as the SUP Capital of the World!
SUP ATX Founder and Chairman, Nick Matzorkis is a serial entrepreneur having founded many highly successful enterprises around the world. Nick became an avid stand up paddler in Malibu, inspiring him to utilize his experience in creating and scaling large companies to spread his love for SUP around the world. SUP ATX President, Mike Bill and SUP ATX General Manager, Steve Mellem each have 25 years experience in all aspects of the surfing industry. Their vast experience includes surfboard manufacturing & distribution, managing the Becker Surf retail chain, online surfboard sales and shipping expertise. No one knows the surfing industry better than Mike and Steve and no other company knows how to guide the stand up paddle industry into the 21st century than SUP ATX.